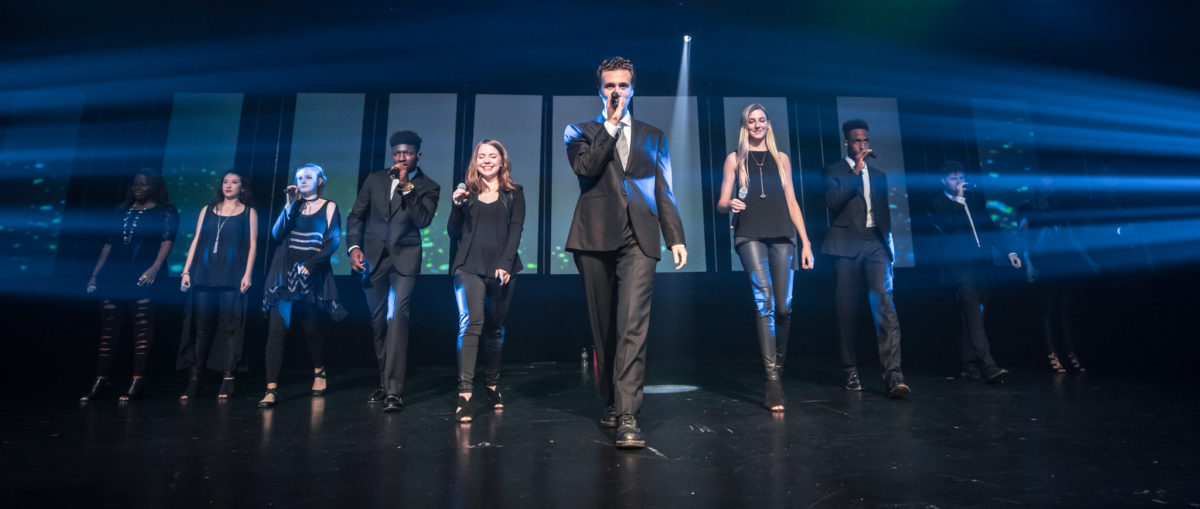 This article was originally posted on November 13, 2018.
How do you bring a new arrangement to life with your a cappella group? It's not just about using rehearsal time wisely – it's also about defining your group's mission. In a recent interview, AEA president J.D. Frizzell talked about doing both with award-winning high school group OneVoice.
What does every director need to know when starting an a cappella group?
You need to know why the group exists. That seems like a basic question, but the answer isn't always on the surface. Does your group exist to give friends an outlet to sing and have fun? Does it exist to push the boundaries and compete? Does it exist to release albums every year and make money? If you don't know why your group exists, talk to your members about their priorities in the group.
For OneVoice, J.D. and the singers have two established priorities: 1) to make great, compelling music, and 2) to share that music with as many people are possible. That clear mission, however simple, led to opportunities such as performing on America's Got Talent and winning Macy's A Cappella Challenge in 2015.
OneVoice singing Jackson 5's "I Want You Back"!
Revisit those priorities with your group every year – they may change based on membership. You need to know how those priorities fit with what you can facilitate at your school and in your community. For example, what are the strengths of your high school choral program? If you're not sure where to start, the AEA provides plenty of resources, expert advice, guides, and more for members, and high school and collegiate a cappella-ites can join todayto take advantage of those benefits! You can also go to Acappella.howfor plenty of videos, tutorials, and articles on every a cappella subject.
What's the best process for teaching a new arrangement?
J.D. uses a 5-step method to take arrangements from first look to performance readiness. It's based on OneVoice's schedule – five 45-minute rehearsals a week – but you can adjust it based on your schedule. It's important to take these steps in the order listed – don't move on to the next step until you've completed the previous step. You can read more about his method here– we've outlined the basics below.
Day 1 | Students learn parts individually using practice tracks/MIDI tracks, listening on their phones/computers and using sheet music. Instead of teaching parts one at a time with a piano, everyone can learn their parts individually. Most groups with learning issues can trace them back to step 1.
Day 2 | Divide the group into "textures" based on the makeup of the arrangement and have them work in sectionals. J.D. works with one group at a time on dynamics, articulations, phrasing, and other musical elements. By the end of this step, the sections should know their parts fairly well.
Day 3 | Sing through the arrangement as a group. This step requires patience if the arrangement is tricky, and the music director's guidance can make or break the process. This is the place to fix problems.
Day 4 | Introduce non-musical elements, such as emotion, staging, and choreography. Talk about the meaning of the piece and the emotional direction – this informs how movement will work for the song. You should know what you group wants – some groups can pull off intense choreography, while others shine with staging instead. If you talk about priorities with your group, you'll have a good idea of what they want.
Day 5 | Have an informal performance. You can perform the piece in a hallway at school, for other classes, outside an academic building, or anywhere else that provides a low-pressure environment for premiering a song.
These steps can be adjusted to different schedules. Many college groups have two longer rehearsals per week – in that situation, do steps 1-2 in the first rehearsal and steps 3-5 in the second rehearsal. Whatever your schedule, you can make this method work with your group to bring a piece to performance readiness in a matter of days.
What are the most overlooked elements of an a cappella rehearsal?
In every arrangement – a cappella or otherwise – there's a hierarchy of musical needs. A standard pop arrangement can have, in order of priority, a soloist, rhythm section, harmonies, pads, and rhythmic syllables. Each member should know their role – if a "jin-ah-jin joh" rhythmic line is one of the loudest parts of your arrangement, that part is too prominent.
Beyond that, make sure every member knows their parts well. A great arrangement and incredible performance can lose all of its impact with a single "ehh" measure. It all goes back to step 1 – this method can be a valuable tool in elevating your group.
---
This article is based on an interview with J.D. Frizzell, AEA president and director of Briarcrest Christian School's OneVoice. He's one of several a cappella personalities we interviewed in our Summer Series. Stay tuned for more articles on what YOU need to know about a cappella education every week.
Contact us via our Facebook page to learn more and join our Facebook group to become a part of the community! We're also on Instagram (@acappellaed) and Twitter (@acappellaedu).
Do you want free arrangements, expert advice, and access to professional a cappella events? You can have all of that and more by becoming a member of the A Cappella Education Association. Join us today and help shape the future of a cappella.